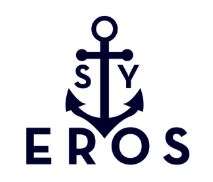 Previously named Jeanry

EROS SAMPLE MENU
The following dishes are representative of the choices you will be offered aboard EROS.  Keep in mind that your preferences will always be taken into account and actual dishes will depend on availability of ingredients in the islands visited.  Our talented chef can usually meet your wishes!
BREAKFASTS
French Toast made from bread baked aboard
Omelets to order
Fresh fruits with the option of yogurts and cereal
Side offerings of bacon, sausage and ham
Eggs Benedict
Freshly baked bread
Coffee, tea, juice
LUNCHES
Roasted Butternut Squash with sausage, apple, shallot, garbanzo stuffing
Salad Nicoise (using freshly caught tuna when we're lucky)
Caesar Salad with Roasted Capers and Grilled Chicken
Turkey Pozole served with lettuce, avocado, radish salad and Corn Muffins
Chile-Rubbed Chicken Fajitas with Sizzlin' San Antonio Veggies
Hawaiian Pork Stir Fry served in a Pinapple Boat
DINNERS – MAIN COURSES
Tournedos with Roasted Pepper Sauce and Avocado Butter
Tropical Citrus Game Hens served with Rice and Zucchini
Baked Shrimp with New Orleans Remoulade Sauce and French Potato Salad 
DESSERTS
Key Lime Pie
Chocolate Fudge Cake with Vanilla Ice Cream
Banana Beach Shortcake
Cold Amaretto Souffle
Fresh Fruit Tart With Whipped Cream

Additionally, children-friendly menus, late night snacks, vegetarian options and special needs diets can be met.