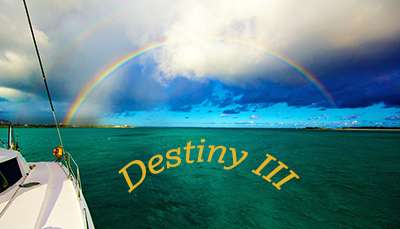 Availability
| Start Date | End Date | Details |
| --- | --- | --- |
| Dec 14, 2020 | Dec 21, 2020 | Booked: George Town, Bahamas* to George Town, Bahamas* |
| Mar 27, 2021 | Mar 30, 2021 | Booked: George Town, Bahamas* to George Town, Bahamas* |
| Apr 27, 2021 | May 02, 2021 | Booked: George Town, Bahamas* to George Town, Bahamas* |
Rates
High Rate:


16,500 USD per week
Low Rate:


13,250 USD per week
MCA Compliant: MCA Compliant
Rates are Inclusive
Taxes, re-location fees, cruising permits and licenses may be extra. Please verify with clearing house.
Cruising Permit: Paid by Boat Licenses: Paid by Boat
Seasonal/Individual Rates

Currency
Terms
2 Pax
3 Pax
4 Pax
5 Pax
6 Pax

Winter 2020/2021

US Dollars
(Caribbean Terms) Inclusive
$13,250
$14,000
$15,000
$15,750
$16,500

Summer 2021

US Dollars
(Caribbean Terms) Inclusive
$10,600
$11,200
$12,000
$12,600
$13,200

Winter 2021/2022

US Dollars
(Caribbean Terms) Inclusive
$13,250
$14,000
$15,000
$15,750
$16,500


Captain Only Rates:
Captain only rate for the Florida Keys;
Key Largo round trip or one way to Marathon or Key West, starting in Marathon and finishing either in Key Largo or Key West.

7 nights- Capt only APA 30% plus 7.5% Florida tax.
2-Guests $8,000 Plus
3-Guests$8,400 plus
4- Guests$8,800 plus
5 Guests $9,200 plus
6 Guests $9,600 plus




Additional Rate Details:
Sales tax for Keys (Monroe county) of 7.5% for charters in this area apply.

Rates are plus 4% Bahamas Tax

Christmas Week: $18,150.00
New Year's Week: $18,975.00

Nonstop direct flights to GGT George Town, Great Exuma from Miami, Ft. Lauderdale, Atlanta, Charlotte, and Toronto.

Day Sail Cat Island and Long Island- Rate is $1200 for a full day up 6 guests, including drinks, lunch, and snorkel gear.
(up to a maximum of 10 pax at $100 extra per person) Delivery would apply also.

Exumas Day Sail: $1800.00 for 6 guests additional guests up to 12 is $100.00 PP.

Summer Base Port: Islamorada, Florida
Summer Operating Area: Florida
Winter Base Port: Cat Island or Georgetown Bahamas
Winter Operating Area: Bahamas
Location Details:
Summer Season 2020 Islamorada, Florida. Available for Charter July to early Oct.

Based in Winter Season Georgetown, Exumas. Mid Oct based in the Bahamas
Georgetown or Staniel Cay pick up/drop-offs
Delivery fees apply:
Staniel to Nassau or vice versa - $1000 each way (75 miles) (Nassau Yacht Haven Marina)
Georgetown to Staniel Cay or vice versa - $800
Cat Island to Staniel Cay or vice versa - $600 (60 miles)

It is also possible to start and finish charters in Cat Island. Here are some options to fly in and out of Cat Island :
Watermaker (Makers Air) now fly direct to Cat Island from Ft Lauderdale Executive Airport on Monday, Wednesday and Friday.
Silver Airways was to schedule direct flights to Cat island, from Ft Lauderdale, starting May.
Other options are to book a RT to Nassau and take a connection to Cat Island on either Sky Bahamas or Western Air (2 flights a day each) and return from Cat to Nassau or from Long island to Nassau

For clients who may wish to scuba dive an example itinerary would include South Cat island, Conception Island, Rum Cay, North Long island, and back to Cat Island. There would be scuba diving opportunities at the start and finish on Cat Island as there is a Dive Resort on Cat Island, and also on Long Island in the middle of the week.

NOTE - Charters out of Cat Island means the first passage would be in Blue waters for a minimum of 22 miles. (The distance to Conception Island from South Cat Island, normally about 3 hours.)

Destiny III will run trips in all parts of the Bahamas including a great 7 or 8 day minimum from Cat island, or George Town, to Ragged Island. The yacht can also start and finish in Crooked and Acklins Islands, as well as the Abacos.
No kids under 12 while in the Bahamas.
While in Florida kids 6 or older welcome.


CREW CALENDAR:
Scott & Cara - October to May each year
Dave & Trish - June to September each year