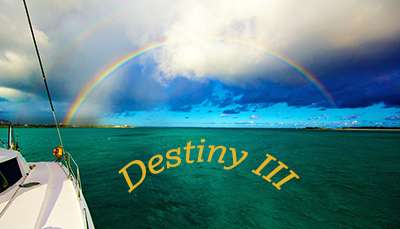 Availability
| Start Date | End Date | Details |
| --- | --- | --- |
| Feb 21, 2019 | Feb 28, 2019 | Booked: Bahama Islands* to Bahama Islands* |
| Mar 10, 2019 | Mar 20, 2019 | Booked: Bahama Islands* to Bahama Islands* |
| Jun 21, 2019 | Jun 25, 2019 | Booked: Bahama Islands* to Bahama Islands* |
Rates
High Rate:


17,950 USD per week
Low Rate:


14,000 USD per week
MCA Compliant: MCA Compliant
Rates are All Inclusive
Taxes, re-location fees, cruising permits and licenses may be extra. Please verify with clearing house.
Cruising Permit: Paid by Boat Licenses: Paid by Boat
Seasonal/Individual Rates

Currency
Terms
2 Pax
3 Pax
4 Pax
5 Pax
6 Pax
7 Pax

Winter 2018/2019

US Dollars
() All Inclusive
$14,000
$15,000
$16,000
$17,000
$17,950
$0

Summer 2019

US Dollars
() All Inclusive
$14,000
$15,000
$16,000
$17,000
$17,950
$0


Captain Only Rates:
"The port fwd cabin can accommodate a child for an additional $500".

Additional Rate Details:
Rates are plus 4% Bahamas Tax

Christmas +10%
New Year's +15%

Nonstop direct flights to GGT George Town, Great Exuma from Miami, Ft. Lauderdale, Atlanta, Charlotte and Toronto.
Summer Base Port: George Town, Exumas
Summer Operating Area: Bahamas
Winter Base Port: Cat Island, Bahamas
Winter Operating Area: Bahamas
Location Details:
Based in Exumas.
Georgetown or Staniel Cay pick up/drop offs - delivery fees may apply.
Staniel to Nassau or vice versa will be $1000 delivery fee.