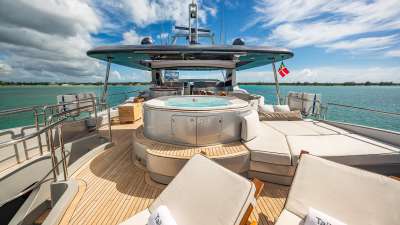 Availability
| Start Date | End Date | Details |
| --- | --- | --- |
| Jul 04, 2022 | Jul 11, 2022 | Booked: Nassau, Bahamas* to Nassau, Bahamas* |
| Jul 14, 2022 | Jul 23, 2022 | Booked: Nassau, Bahamas* to Nassau, Bahamas* |
| Jul 25, 2022 | Aug 01, 2022 | Booked: Nassau, Bahamas* to Nassau, Bahamas* |
| Aug 05, 2022 | Aug 10, 2022 | Booked: Nassau, Bahamas* to Nassau, Bahamas* |
| Aug 13, 2022 | Aug 22, 2022 | Booked: Nassau, Bahamas* to Nassau, Bahamas* |
| Aug 25, 2022 | Aug 28, 2022 | Booked: Nassau, Bahamas* to Nassau, Bahamas* |
| Aug 30, 2022 | Oct 01, 2022 | Unavailable: Fort Lauderdale, Florida* to Fort Lauderdale, Florida* |
| Oct 02, 2022 | Oct 09, 2022 | Booked: Nassau, Bahamas* to Nassau, Bahamas* |
| Oct 21, 2022 | Oct 28, 2022 | Booked: Bahamas - Nassau to Bahamas - Nassau |
| Oct 30, 2022 | Nov 05, 2022 | Transit: Nassau, Bahamas* to Caribbean - Leeward |
| Nov 07, 2022 | Nov 14, 2022 | Booked: Saint Thomas, USVI* to Saint Thomas, USVI* |
| Nov 25, 2022 | Dec 02, 2022 | Booked: Saint Thomas, USVI* to Saint Thomas, USVI* |
| Dec 05, 2022 | Dec 11, 2022 | Booked: Saint Thomas, USVI* to Saint Thomas, USVI* |
| Dec 20, 2022 | Dec 27, 2022 | Booked: Saint Thomas, USVI* to Saint Thomas, USVI* |
| Dec 29, 2022 | Jan 05, 2023 | Booked: St Thomas, USVI* to St Thomas, USVI* |
| Jan 07, 2023 | Jan 14, 2023 | Booked: St. Thomas, Compass Point to St. Thomas, Compass Point |
| Jan 16, 2023 | Jan 20, 2023 | Booked: Saint Thomas, USVI* to Saint Thomas, USVI* |
| Feb 23, 2023 | Mar 15, 2023 | Hold/Option Taken: St Thomas USVI to St Thomas USVI |
| Apr 22, 2023 | Apr 29, 2023 | Booked: St Thomas, USVI* to St Thomas, USVI* |
| Apr 30, 2023 | May 05, 2023 | Transit: Saint Thomas, USVI* to Bahamas - Nassau |
| May 07, 2023 | May 13, 2023 | Booked: Bahamas, Long Island to Bahamas, Long Island |
Rates
High Rate:


90,000 USD per week
Low Rate:


80,000 USD per week
MCA Compliant: N/A
Rates are Plus Expenses


Additional Rate Details:
Winter - 2022: $80,000 p/w, plus expenses.
Summer 2022: $80,000 p/w plus expenses.
High Season: $90,000 p/w plus expenses
Thanksgiving, Christmas charter staring Dec 19 - 26 2022, or New Year Dec 29 - Jan 5 2023 and will consider 10 day minimum over the holidays.
--
APA: 40 % of the charter fee

Effective July 1, the Bahamas has imposed 10% VAT applicable on the charter fee in addition to the 4% tax. The VAT will be held in Escrow for onward forwarding to the Bahamas VAT authority

Delivery Fee may apply, please inquire.

AYCA Demise in US Waters
MYBA - Bahamas and Caribbean
Please note that Hurricane Season is June - November, and contracts during this time will require a Hurricane Addendum addressed by all parties.


Summer Base Port: Nassau, Bahamas
Summer Operating Area: Bahamas
Winter Base Port: St. Thomas/ St. Maarten
Winter Operating Area: Caribbean Virgin Islands (US/BVI), Caribbean Leewards, Caribbean Windwards, Caribbean Virgin Islands (US)
Location Details:
April 2022 - October, 2022 - Bahamas
November 2022 - April 2023 Caribbean - St. Thomas and St. Maarten
May - Oct 2023 - Bahamas
November - 2023 - May 2024 - Caribbean - St. Thomas and St. Maarten